The Friedrich Miescher Laboratory
Institute Profile
The Friedrich Miescher Laboratory (FML) was founded in 1969 to offer highly qualified junior scientists in the area of biology an opportunity to establish independent research groups and pursue their own line of research within a five-year period.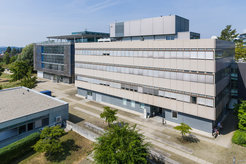 The laboratory still serves this purpose today. It is home to four Independent Junior Research Groups of the Max Planck Society. The groups share equipment and jointly manage the organization of the laboratory. These special conditions and the close interaction between the groups make for a very active and lively research atmosphere. The FML is represented by a Managing Director, currently Andrei Lupas, who also supervises the administration of the laboratory.
Open Access
There is no specification as to which kind of biological research should be conducted at the FML, and the focus of research changes with the appointment of each new group leader. In the past, research interests have included developmental biology, neurobiology, cell biology and many other areas of modern biology.
Located at the Max Planck Campus Tübingen
The Friedrich Miescher Laboratory is located on the Max Planck Campus in Tübingen, next door to the Max Planck Institutes for Biology Tübingen and Biological Cybernetics, allowing close scientific interaction. Scientific exchange between the institutes is furthermore aided by the joint organization of a seminar series with speakers from all over the world, as well as common internal seminars, and the common use of the Max Planck House.